The apartment is located in the farm's "big house". The beautiful building was erected in the middle of the 19th century and is where EvaLis was born. The house is now unoccupied and you have the opportunity to spend a night or a whole week in the house.
The upper floor
On the second floor is the "2 bedroom apartment" that you can rent. On this floor there is also "The Hall" – the house's largest room that is used for dinner parties and celebrations. "The Hall" can now also be rented for day conferences. Since the hall and the apartment are next door to each other, we have chosen not to have conferences and accommodation simultaneously. We believe that the accommodation is more comfortable and conference participation more valuable if renters and conference guests both have the whole floor for themselves.
Outside The Hall and apartment there is a large hallway room. From the hall you can walk out onto the balcony. The balcony faces the south and during the time you stay with us the balcony is reserved for you. The hall also contains the stairs leading to first floor. The stairwell is decorated with the beautiful red-brown 50's wallpaper that is the background on this website. The stairs also show off a number of grand-pa Bertil's hunting trophies.
The ground level
The ground floor contains the Smultronboda catering kitchen. As a resident, you may ordering a picnic basket for your outings from the kitchen. The basket can we fill with a light lunch or coffee and homemade buns. We use ingredients that are in season and are happy to adapt to your preferences. Contact us to find out more.
Downstairs there is also a beautiful room that we call "The Small Hall". In this room one can hold conferences, albeit on a smaller scale than on the upper floor. The room is also used as a cafe and for events, especially if the weather is bad outside.
The garden
Under the big birch trees we have placed our white woden garden furniture. Have a seat! On the days that there are cafe activities such as sing-a-longs they occur in the garden or in the small room downstairs. It is important to us that you who live upstairs have that space to yourself.
Accessibility
The house is surrounded by grass and garden beds. Up to the porch, there are two steps, to the apartment a staircase with wrist holder. The apartment has one step into the bathroom. In summary, there is limited accessibility to the apartment with wheelchairs and walkers.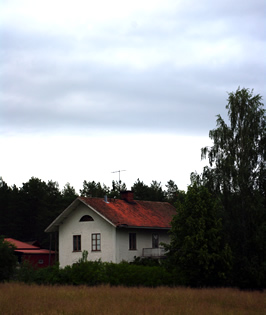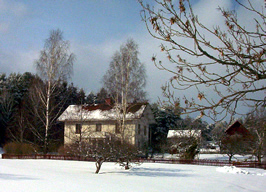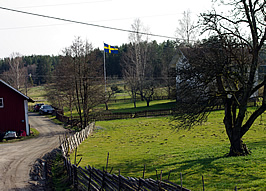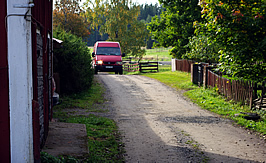 Reserve and get info via Björn on +46 (0)76-882 15 10 or e-mail!